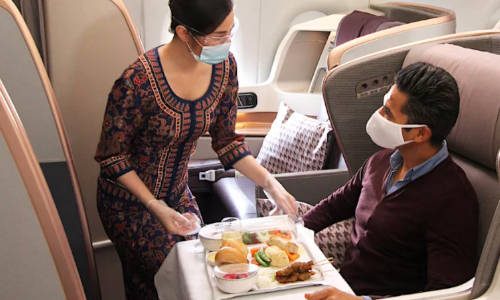 The Airline business model continues to evolve during COVID-19 pandemic.
Singapore Airlines (SIA) A380 Dining Experience has proven to be a hit. Media reports confirm that seats in both aircrafts sold out within 30 minutes of launch.
Singaporeans had no second thoughts when they pulled out their wallets, just to experience the nostalgic excitement of eating airline food in a confined setting.
The dining experience in economy went for S$50, premium economy S$90 and business class S$300 (pre-tax prices).
There were six seatings comprising dinner on 24 to 25 October, lunch and dinner on 31 October to 1 November.
SIA has now open a waiting list although it is uncertain if it will continue with this initiative. But it is clear that these are not long-term plans for the airline's viability as SIA has said "we are an airline and we do have to get back to flying".
Other Commercial Initiatives?
1. SIA@Home which allows people to enjoy SIA First Class & Business Class dining experience at home, will remain as more than 500 dining packages have been booked so far and acocrding to SIA demand continuing to come in (it is hard to say whether these are bookings from friends and relatives or genuine demand from the general public).
2. Christmas 2020 Menu is on the cards. Expect more home food deliveries initiatives to come. Some offers come complete with cooking instructions and a "specially curated playlist to recreate the SIA onboard experience," Reuters reports.
3. Scenic Flights – SIA abandoned its plans due to environmental concerns. In contrast, Qantas managed to pull off this initiative with its "Great Southern Land" scenic flights across Australia with Boeing 787 Dreamliners that operate from Sydney Airport.
According to media reports, only 32 of SIA's 220 planes were operating as of the end of September.

SIA is not alone in its food business drive. With hundreds of flights grounded all over the world, airline food suppliers have been offering their meals to customers directly, according to Lonely Planet.
(Photo Credits: New Straits Times, Singapore Airlines, Todayonline.com)